Keeping it R.E.A.L
Keeping it R.E.A.L was a project I created that was awarded 1st place in Microsoft's 2011 International Educator Forum in Washington D.C. I have left this page as a record of what I was up to a few years ago.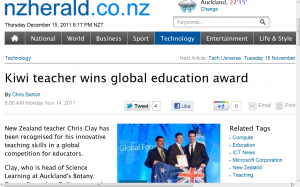 Keeping it R.E.A.L is all about Real-world Experiences Activating Learning (hence the R.E.A.L). It involves an online learning community where over 240 teachers and learners work collaboratively online to meet similar learning objectives. The "real" aspect of this learning community involves opportunities for members of this online community to participate in authentic challenges set by members of the wider community. In it's first year, 1 student created an innovative solution that has resulted in him led submitting his work to an international scientific journal.
Here is a brief video that was created to introduce the project to the judging team for the Global Forum

Here is a summary of the outcome of the first full authentic task… The first time we really kept it R.E.A.L

This video is taken from a presentation I gave for Microsoft's Virtual University in December 2011. It goes through the basic fundamentals of the project, how it is set up and the outcomes of the project.