Thinking differently
Wouldn't it be great if every kid could access robotics equipment and make physical objects do stuff? If the answer is yes – this article might be interesting as I'll be sharing a recent project I've been involved with to provide kit that helps kids build and code their own robot that has all the bells and whistles for less that $30. And just in case you're wondering – No I'm not selling robots!
For the last few years I've been playing with all kinds of robotic bits and bobs and exploring how and why kids might create with them. This has involved a lot of tinkering with screwdrivers, learning to write a bit of code and even a trip to South Korea. During this time I have also developed an appreciation for how expensive it is for schools to invest in robotics kits.
This expense is problematic for a number of reasons including the following:
Schools struggle to purchase kits. When they do they might only buy a few

Teachers worry about using the kits as damage to them is expensive

The first problem often affects the way kits are used. In my experience 2 outcomes are common:

Only a small group of learners get access (usually kids thought to be gifted)

All/most kids get to play but only for a limited period of time within specific robotics time rather than across the curriculum.
For a long time there have been a number of low-cost alternatives to the more expensive kits. The open-source arduino platform helped people develop all kinds of robots really cheaply. However, issues around soldering and having be able to code in the computer programming language "C" have prevented many teachers from really considering it.
Over the last year or so a few alternatives to this have popped up. In my opinion one of the more interesting is the M-bot kits. These kits are cool as they have lots of the bells and whistles that make robots interesting such as a range of sensors (ultrasound, infra-red, etc) and most importantly they can be programmed using a graphic-user interface that resembles Scratch. Furthermore no soldering is required.
However – they are still kits. My feeling about kits has changed quite a lot over the last year or so. Initially I kind of liked the idea that all the stuff was contained in a box. However, there are two main reasons I think they might suck.
First of all they have instructions. Following procedures isn't creative. However, I accept that they provide a solid starting place by which we can learn how the kit might work and then get creative. I guess I can live with instructions providing the interactions kids have with robots aren't limited to following them.
The second problem emerged in my mind as a frustration I have experienced pretty much every time I have tried to create my own robot using the stuff in a kit. There is always a point where the block you need simply doesn't exist. At this point we've either got to jerry-rig something (which I think is cool!) or we simply cannot do what we intended. To a certain degree I think people's creativity is often restricted by the contents of the box.
So enough babbling…
Earlier this year I can across a project to create a version of Scratch that could be used to programme Arduino robots. The project was the work of the Edutec Research Group in Catalonia and was named Scratch-for-Arduino (www.s4a.cat). This was a major breakthrough as it overcame one of the biggest obstacles to cheap robots in schools – the need to be able to write text-based code. Even more interesting is another piece of software the group have also developed called Snap-for-arduino (www.s4a.cat/snap). This alternative has way more flexibility and can programme all kinds of robot boards including the Lilypad which allows you to create programmable artwork and e-textiles.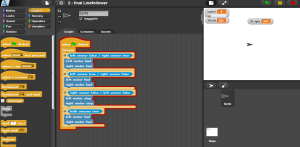 SNAP-4-Arduino
Over the last few months my playing with this has got a little more serious and I even enlisted the help of former students who are now specialists in mechatronics. This has led to the development of a super simple and solder free robotics platform that is way less restricted by "what's in the box". It is easy to put together and enough instructions can be given to get you going without limited what you choose to do. It also costs less than $25 for the basic bits and bobs and less than $30 to add the usual bells and whistles.
Lots of playing around has ensured there are there is no mass of wires or breadboarding required as everything just neatly clips together. As soon as I get a few things sorted I will be placing some instructions online soon that shows how you (or your kids) can put these bits together yourself.
The other thing that I've explored whilst working on this project is how we might overcoming the limitations of the kit. I didn't have one so how could it limit me. To begin with this was a problem – what will I make my robot from. But then I realised what I could use – ANYTHING. My first prototype was a cereal box. I popped a couple of wholes in it and then used two cable ties to anchor the motors. I stuffed the robot's mother board and batteries inside and began controlling it with the keyboard on my computer via Bluetooth. This first prototype was built in two minutes.
My first prototype
By the second iteration I was using complex polymers – well empty plastic ice-cream containers to be precise. This time I began adding sensors – infra-red, ultrasound, light, temperature, humidity. I now have a robot that is programmable Scratch-stylee and it can be driven around, follow lines, chase or avoid lights, log data (this can be done for less that $10) and all the usual things you would expect a "proper kit" to do. Furthermore it could be made from whatever is lying around.
Getting a little more sophisticated
This last point is really important. Many of the schools I work with use robots and they all look the same. When we think about the reasons we might use robots in school it doesn't take long before we use the word innovation. Surely it would be way more innovative and personalised if kids were able to create their own robot using craft materials and trash. Those schools that have 3D printers could take it to the next level.
Anyway, that's a few insights into my pet project. I'd be really keen to hear from anyone interested in having a giving it a go (it's as simple as any "proper kit" to set-up). I'm also keen to get more heads involved in a conversation of what we might be able achieve using this kind of low-cost and simple really simple gear. Maybe send me an email at chrisclaynz@gmail.com or tweet me @chrisclaynz.